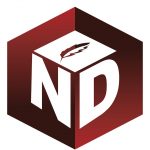 After 13 months of interviewing and collecting testimonials of faith from Christians from across the country, my book, The Book of Faith is complete. A special thank you goes out to the more than 100 Christians who provided me with their stories of faith to encourage the people of God.
Although I've been writing my entire life, I've never taken on a project of this magnitude. This book is by far my greatest work and accomplishment. To God be the glory!
I'm in the process of selecting an agent, who will then work with me in selecting the right publisher for this unique project.
Stay tuned for updates on the launch of my podcast, ND 500. It is slated to launch in January 2018.