As a devout Houston Texans fan, it just broke my heart when I heard the news that our rookie quarterback, Deshaun Watson fell to the ground during practice suffering a season-ending torn ACL.
But I was quickly encouraged by a Twitter post I saw that he posted on August 3, 2015. It said, "Faith in The Lord that he got me! #WishMeWell." What a powerful statement. As a man of faith, I am definitely praying for him, and I know that the Lord has him in His hands.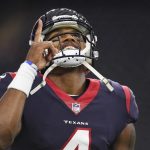 You see, Watson tore his ACL in 2014 at Clemson, but in the words of Dabo Swinney, Watson's coach at Clemson, "Watson knows what it takes to come back from an ACL tear. All he did after the injury in 2014 was come back and lead us to the National Championship game twice, and of course, we won it last year."
Watson's Twitter post caught my attention, so I decided to dig a little deeper and read more about this quarterback that I had come to enjoy watching play each Sunday. And guess what happened? I stumbled upon another article talking about Watson's faith in the Lord.
The headline reads, "Faith led Watson to Clemson."
Accepting Christ
I soon discovered that Watson found Christ when he was in the ninth grade. At the time Watson was a huge Florida Gators fan. He loved Tim Tebow and everything about Florida. Becoming a rising star in high school, the natural thought would be to play college football at Florida, the college team he loved.
However, for Watson, accepting Christ played a big role in his decision to attend Clemson. Watson began relying on his faith to help him decide amongst a long list of scholarship offers to make the right decision.
The Reward for Having Faith in Christ
"I found Christ when I was in ninth grade, and I just started praying on my decision," Watson said at the time. Watson's faith was rewarded.
"I stuck through it, and it was the best decision of my life," Watson said.
Three years later, Watson headed to the NFL having compiled a 32-3 career record, a national championship, and two ACC Championships. The two-time Heisman finalist finished first in school history in completion percentage, second in passing yards, second in passing touchdowns and third in completions.
My favorite scripture in the Bible is Hebrews 11:6. It says, "But without faith, it is impossible to please Him, for he who comes to God must believe that He is and that He is a rewarder of those who diligently seek Him."
Like Watson, obstacles show up in our lives, often unexpectedly. Our faith is tested, however, as I've grown in Christ, I've discovered that the test that God allows us to go through sometimes is for us to be used as a testimony and encouragement to someone else.
According to statistics, there are between 250,000 and 300,000 ACL injuries nationwide per year. That's a lot of people. But when you analyze that statistic and Watson's injury through a spiritual lens, there's encouragement for nearly 300,000 people across the nation in knowing that they are not alone, that Watson too, suffered the exact same injury, and went on to accomplish great things by winning a national championship and becoming a candidate for the Heisman, not once, but twice.
As for Watson's current injury, spiritually speaking and based on the evidence of what God has already done through this young man's life, I believe that God is up to something.
Romans 8:28 says, "And we know that all things work together for good to those who love God, to those who are called according to His purpose."
I believe that God has so much more in store for Watson and that what he is going through right now, will, in the future prove to be a testimony to what God can do when faith in Him is the avenue we choose.
A Testimony of Faith Goes a Long Way
I remember when I was a young boy, around eight years old. I was riding in the truck with my father one Sunday afternoon. We were on our way to check on our cows on our family farm, located about 20 miles from our home. I asked my father how did he become an attorney. His response wasn't at all what I was expecting. He told me that it was through faith in God.
He told me that the same farm that he was taking me to was the same farm in which he picked cotton every day as a boy. However, being inspired by watching television shows like Matlock, he had a dream of one day becoming an attorney. But in those days, he told me, being an attorney wasn't very realistic for most African Americans growing up in the 60s. He went on to tell me that he went to college at a small school in Mississippi on a track scholarship. He later applied to law schools all over the country. However, the responses he received were not positive. After a while, my father said he pretty much figured that law school would not be an option for him.
But one day during the month of August, about the time when most schools are in session, he received a letter in the mail from Drake University in Iowa. The letter said that he had been accepted to their law school.
But still, there was a big problem. The letter stated that they didn't have a place for him to stay. My father, a country boy from Mississippi, who had never been to the state of Iowa in his life had a decision to make. Would he settle for something he knew, which was farming or would he step out on faith and follow his dream of becoming an attorney by journeying to a place he knew absolutely nothing about?
My grandfather, who raised my father, only had $100 to give my dad, certainly not enough to find a place to stay in Iowa for three years of law school. But my father decided to step out on faith and go to Iowa despite his circumstances.
In fact, he had to spend part of the $100 on a bus ticket to get to Drake University. Once he arrived on campus, he went to the dean's office to let them know that he was there. They thanked him for coming, but they also reiterated that there was no place on campus for him to stay. But then, just as Hebrews 11:6 says, God, rewarded my father for his faith.
It just so happened that someone overheard my father's conversation about him needing a place to stay. To make a long story short, the Lord provided a place for my father to stay the three years he was in law school. As a result, my father has been an attorney for over 40 years through the Legal Service program, serving the underprivileged. But his dream would not have been realized had he simply accepted that fact that he didn't have a place to stay. Instead, he went to Iowa, not knowing what would happen next.
My father's story stuck with me on many occasions when I could not see what God was doing in my life. But through faith, the Lord didn't always come when "I" wanted Him to, but the Lord has always been right on time.
And though it hurts me to see Watson endure a second ACL injury, I am anxious to see how God will use him this time to encourage others. Just as my father's story was a testimony for me later in life, I'm sure that Watson's story will also prove to be a testimony to someone else.